Hi to all,
I've been useing this phone for quite a long time now and i Know it's the best though i still couldn't figure it out how in the hell ;D do i make my IM working.I have no problem useing operamini, or any other web application but this?!...No way
I know that many of are useing it could you give me a little help ;D
Thankx



No, the IM is kinda useless application. Just find a suitable java-based IM client (I use JiMM for ICQ, you can find similar for Yahoo).
download this working wvim (http://www.esnips.com/doc/58792e7c-ad22-41c9-945c-9cc7f4ab79ce/L7wvim) upload to phone using p2ktools >>>>> /a/mobile/system/
fill these setting

IM Account Setup
IM Provider : Custom
IM ID : Fill with your Yahoo messenger ID
Password : Fill With Your Yahoo Messenger Password
IM Server : imps.next.msg.yahoo.com
IM Port : 80
Post URL : /gateway
Secure Login : No

Offline Setting--ISP Setting >>>>> fill with your current provider websession

Correct me if i'm wrong
already do that, couldn't connect into yahoo.same like 1st time.
in ur phone ,its work ?
its work on my phone bro....
on my opinion java apps are still better :)

Check the official app: http://messenger.yahoo.com/mobile.php
You're rite Exploited...
As far i'm using IM with YM branded (NOT CUSTOM)... its take too much DATA from GPRS access, better is using JAVA APPS
the only pros is IM can be run in background, that it..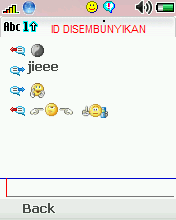 One solutions.. access http://mm.yahoo.com
YM via Wapsite from your wap browser, this is no need apps installed, just use the wap browser
i'm currently using eBuddy n shMessenger
too much wasting time waiting for someone release the YM BRANDED..but i'm happy can use CUSTOM
wow....
it's cool mr. diditnya... :o
IM with YM branded
hmm i think YM brand via IM is included on Operator Based Original Flash File also come with AOL and ICQ, it mean is not come with unlocked firmware. u can use with T-Mobile for examples soo u can use as t-mobile wvim client.